Holiday Park Activities & Six Gospel Concerts
Simply stated, the activities at Holiday Park and the surrounding area will exceed your expectations. The Award Winning DJ Steve Moody will perform on Saturday of 4th of July weekend.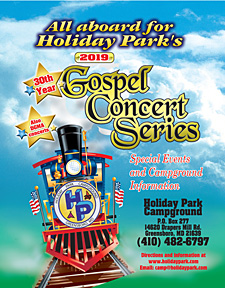 A full schedule of weekend activities is offered — including our terrific line-up of Gospel concerts, featuring talented performing groups. Our Gospel concert performers come from a number of states and represent a variety of musical styles, each intended to praise the Lord and to lift the spirits of those in attendance. Our 2020 schedule of performers presents 6 great evenings of music, with several groups performing each night.
When you are not enjoying one of our many scheduled activities, you can enjoy yourself in our large 2450 sq. ft. swimming pool, our large game room, one of our 4 playgrounds (one of which features our 26 ft. high robot slide), or playing a game of tennis, shuffleboard, volleyball, basketball or horseshoes. Aside from the full recreational facilities which are available for your use, Holiday Park offers over 200 acres, mostly wooded, with sports fields, 4 miles of roads and trails, and the headwaters of the Choptank River, for fishing, canoeing and boating (with ramps nearby - decal required.) We also offer free hayrides, free WiFi throughout the park, free CATV service, a lending library and movie rentals … all for your added recreational enjoyment! If you prefer, just lay back and relax. Our pool and all of our recreational facilities are thoughtfully separated from our clean, spacious campsites, keeping noise levels as minimal as possible. In addition to the activities schedule for Holiday Park (listed below), there is a full calendar of annual activities in the surrounding area.
2020 Activities Schedule
Worship services are held every Sunday at 10:15 AM in Curry-Pepper Hall, unless otherwise posted. These are non-denominational services, with casual dress.

Fire Truck rides will occasionally replace the usual hayride.

Camp back-to-back weekends all season long with FREE on-site storage if rig is left unplugged.
Limited site selection.

We are the home of "Thrifty Thursday" & "Wild Wednesday":
When camping a 2-night weekend - Friday & Saturday night (3 nights on Holiday Weekends - Friday, Saturday & Sunday night) add Thursday at 40% off, add Wednesday at 50% off! Applies to back-in sites only.
April
May
June
July
August
September
October
December
We have an enclosed building with the capacity to seat over 400 people.
Some seating is provided.
Park visitor fee: $10.00. (Children under 16 years old FREE!)
Promotional materials will be offered for sale by the performers.
($) Denotes fee-based activities.
Activities are subject to change due to weather conditions or unforeseen circumstances.
Each weekend, check our bulletin board near the bathhouse in the 100 & 300 area or CATV Channel 3 for details.
Worship services will be held every Sunday at 10:15AM at Curry-Pepper Hall, unless otherwise posted. Non-denominational service / casual dress.