Holiday Park Site Map
Hover over the highlighted areas for a "tour" of our campground!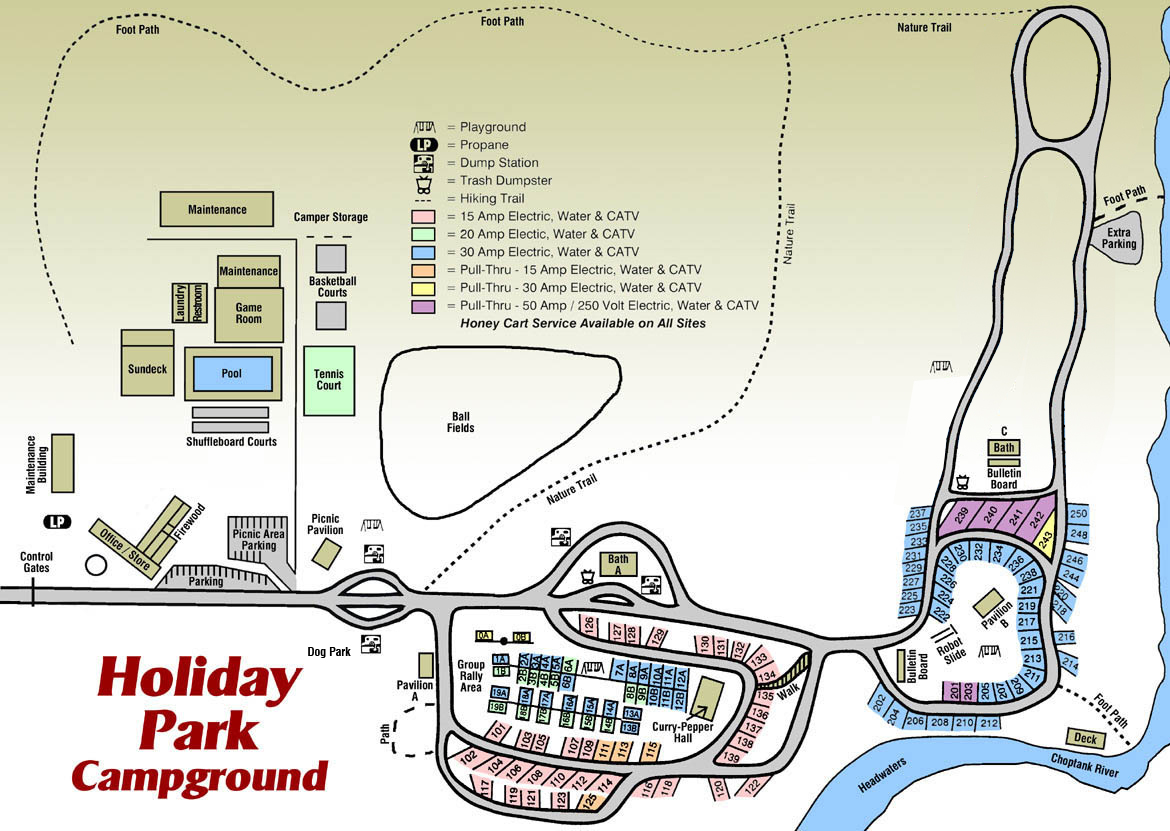 Campground Rules
One Camping Unit Per Site.

Visitors are required to stop at office on entry and pay the required visitor fee. A gate card will be issued ($10.00 cash deposit required) and is refundable up to 10:00PM, at which time all visitors must exit park. Visitors are not permitted to bring pets or alcohol onto park property. Management reserves the right to limit the number of visitors and/or vehicles per campsite. No visitors allowed entry after 9:00PM.

Speed Limits are posted and must be obeyed.

Quiet Hours are from 11:00PM to 8:00AM. Children are restricted to their site during this time.

Children are to be supervised and must be on their site by 11:00PM. Children under 18 years must not be left on campground without parent or guardian.

Bicycles are not to be operated after dusk. Maryland state law requires that all children wear a helmet when riding a bicycle.

Pets must have proof of current vaccination for rabies. AT ALL TIMES pets MUST be on a 6' or shorter leash, attended, and cleaned up after. (Carry a clean up bag when walking your pet.) Excessive barking is not tolerated. Owner may be asked to take animal home if the above rules are violated. Exotic animals and dogs of the following breeds are not permitted: Doberman, Rottweiler, Boxer, Mastiff, German Shepherd, Airedale, Chow, Staffordshire, Pit Bull and any mixed breed of the above.

Firewood brought into the park MUST be contained in vehicle / rig until it is placed on to the fire. All wood brought in must be completely burned up (still following the rules below pertaining to fires), or taken back upon departure. At no time should the wood brought in be stacked on the ground.

Fires are to be contained within the fire ring provided (no stacking) and attended at all times. Fires must be kept small and put out completely with water (do not use sand) by 11:30PM or when leaving the site. A fee of $5.00 will be charged for any fire or hot coals left either unattended, not put out by 11:30PM, or requiring management's attention. Drought conditions may require a fire ban.

Grey water must be contained and disposed of at the dump stations.

Selling or Soliciting with management's approval only!

Strictly Prohibited: Firearms, explosives (including firecrackers), archery equipment, slingshots, power tools, golf carts, motorized bikes (of any kind, including battery operated children's vehicles), alcohol off campsite, loud or disorderly conduct, and abusive language.
Help us keep Holiday Park a healthy environment for our kids!